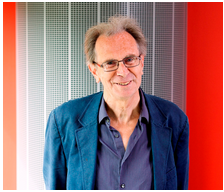 It is difficult to find words to express how shocked and deeply saddened I was with John's early passing. I have worked with John for the past two years on a research project on climate change that he led with so much enthusiasm and interest. One of his 'obsessions', he would say.
Being a linguist by background, I was not familiar with his work when we first started this project but it did not take long for me to be happily immersed in his books and develop full admiration for his work. John opened up my horizons and has changed the way I see society and language. Genuinely modest, he was always kind, supportive, full of ideas and insightful comments that made me think and work hard. I have learned so much from him.
I will always keep a special memory of our last meeting. I asked him how he would explain some ups and downs in the frequency of the word energy in our newspaper data. He just turned to me and said: 'We will have to examine the collocations of energy'. I was so glad to hear that and I could not help having a good laugh. He added: 'Is collocation the wrong word?'.  'No John, but you sound like a corpus linguist'.
I feel very much privileged to have had the chance to work with such a brilliant mind. John was a very special person and will be greatly missed.