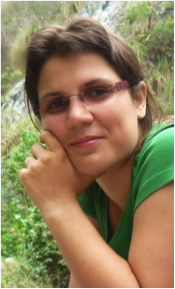 I am Amelia Joulain-Jay and I have just started some corpus-based doctoral research on the representation of places in nineteenth-century British newspapers. I grew up in Belgium, the daughter of an American mother and a French father, and this multi-lingual and multi-cultural environment fed my curiosity about the way people interact and communicate. After some post-secondary school volunteer work in India, Ecuador and Spain, I started studies in the Dalcroze pedagogy of music in Brussels before realizing I wanted to go to university.
My desire to unpick the relationship between language and society brought me to Lancaster University to study sociolinguistics and sociology. Once there, I discovered Corpus Linguistics and was impressed by its ability to handle volumes of textual evidence. The opportunity to further develop my skills in Corpus Linguistics by undertaking PhD research under the supervision of Andrew Hardie and Ian Gregory was too exciting to overlook, and I am delighted to be working surrounded by researchers in the CASS centre.
My research project is part of the ERC-funded Spatial Humanities project which aims to develop ways of analysing text using the affordances of Geographical Information Systems to benefit fields in the Humanities. The research for my PhD will be the first large-scale application of a method combining Corpus Linguistics and Geographical Information Systems to uncover spatial patterns in a large quantity of text. The material under study will come from the British Library's recently digitized archive of nineteenth-century newspapers; hence the research is expected to make a valuable contribution to the field of nineteenth-century history.
Extra-academic facts about me you may find interesting: I am Baha'i; this year is the second year that I am one of the Lancaster University Music Society Choir's conductors; my husband and I have recently set up a jazz band in which I sing.