Our latest Challenge Panel introduction comes from Professor Alice Deignan via the University of Leeds. Read her brief autobiography below.
---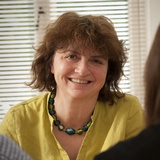 I am Professor of Applied Linguistics in the School of Education, University of Leeds, UK. I come from a language teaching background and many of my current students are language teachers. My interest in corpora dates back to my days as an MA student at Birmingham University where I was introduced to the Cobuild project in corpus lexicography. I was fascinated by the possibilities that corpus work opened up, and when I finished my MA, I joined the project as a lexicographer. I later worked for the project as a consultant on pragmatics and then as an author. Around the same time, I also became very interested in metaphors and other kinds of figurative language, partly because of the difficulties that my students had with this kind of expression.
I studied part time for a PhD, in which I used the Bank of English at Cobuild to explore the predictions that Conceptual Metaphor Theory makes for language patterns. I saw that the corpus could be cherry-picked to select examples that were completely consistent with the theory. However as a lexicographer I'd been trained to analyse entire concordances, or very large random samples of them, and to account for all the data. I was a huge fan of Conceptual Metaphor Theory so I was surprised to find that this rigorous analysis turned up patterns in the corpus that were not predicted by the theory, and needed other explanations. I later wrote up my findings as a book 'Metaphor and Corpus Linguistics' (Benjamins 2005).
More recently, I have become very interested in variations in figurative language across different genres and registers, and together with Jeannette Littlemore and Elena Semino wrote 'Figurative Language, Genre and Register' (Cambridge University Press, 2013). One of my studies for the book compared figurative language use in science research articles with their popularisations. This has led me to a broader interest in the language of science, especially as experienced by young people, an issue that has societal importance well beyond theories of language use. I am currently exploring this area with colleagues who work with secondary school pupils. I am also exploring the connections between collocation and different kinds of and degrees of metaphoricity.
---
Did you miss our previous introductions? Click through to the Challenge Panel page to see profiles, and check back soon for updates.