We're excited to announce that the University of Sydney, Australia and the University of Lancaster, UK have signed an MOU agreement to work on collaborative research in corpus linguistics. This new partnership builds on existing connections between the newly established Sydney Corpus Lab and the Centre for Corpus Approaches to Social Science (CASS), which was founded in 2013. Last year, a CASS contingent attended the launch of the Sydney Corpus Lab in March 2019, and, in June 2019, A/Prof Monika Bednarek from Sydney was a Visiting Researcher at CASS. During her visit, we made plans for a new collaboration on representations of obesity in the Australian Press. This MOU now allows us to formalise this collaboration and to strengthen our existing research links.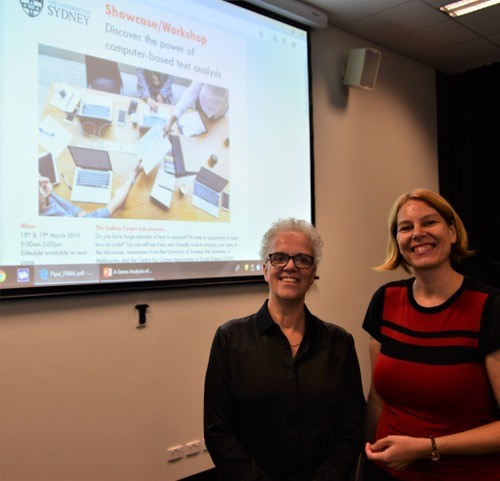 Caption: CASS director Elena Semino (left) and Sydney Corpus Lab director Monika Bednarek (right) at the launch event in Sydney in March 2019
In the immediate future, CASS will build a corpus of Australian news items about obesity, and will advise on the analysis, based on a current project on representations of obesity in the UK Press. The Sydney Corpus Lab will analyse the Australian corpus, with the help of a new postgraduate research scholarship funded by the Charles Perkins Centre and the Faculty of Arts and Social Sciences at the University of Sydney.
The project will explore:
Existing media guidelines around the reporting of obesity
The use of the words obesity and obese in the Australian news media
The impact of the Obesity Collective's campaign to shift the narrative away from stigma and blame
How obesity is represented more generally in the Australian news media, over time and across newspapers
Researchers from the Sydney Corpus Lab and CASS will collaborate on the dissemination of findings, including engagement with research users. We will work with the Obesity Collective and health journalism expert and educator Dr Catriona Bonfiglioli (University of Technology, Sydney) to help steer our analytical focus and for successful impact outside academia.
The MOU also includes mutual visits, and CASS Senior Research Associate Gavin Brookes is already planning to visit Sydney in July 2020, for research meetings and to present a talk at the Corpus Linguistics Down Under symposium.
Watch this space for updates on these activities and announcement of future collaborative initiatives between Lancaster and Sydney!