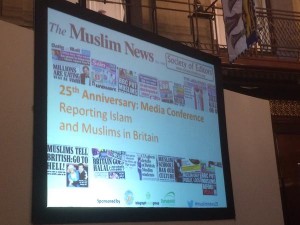 I was honoured to attend the 25
th
Anniversary Conference for the Muslim News on the 15
th
September. The event was organized by the Society of Editors and the Daily Telegraph had provided the venue – the spectacular Merchant Taylor's Hall in the City of London. The event began with a speech by the Bob Satchwell, Executive Director of the Society of Editors and a welcoming speech by Lord Black of the Telegraph Media Group. Following that, Fatima Manji of Channel 4 News introduced me and I gave the morning's keynote speech discussing the work which I did with
Paul Baker
and
Costas Gabrielatos
(
Discourse Analysis and Media Attitudes, The Representation of Islam in the British Press
) looking at the representation of Islam and Muslims in the UK press. I was also very happy to be able to present some early findings from a follow up study Paul Baker and I are currently doing, supported by CASS and the Muslim NGO MEND, looking at how things have developed since our work was published. This is based on approximately 80 million words more data composed of all UK national newspapers articles mentioning Muslims and Islam in the period 2010-2015.
The audience included a mixture of journalists, newspaper editors and TV news reporters and editors. In addition there were representatives from many faith groups and NGOs present too. The research was very well received by the audience. After the talk a panel was convened to discuss the work and take questions from the audience. The panel included John Wellington, the managing editor of the Mail on Sunday, Doug Wills, managing editor of the London Evening Standard and the Independent group of newspapers and Sue Ryan, former managing editor of the Daily Telegraph and manager of the trainee programme for the Mail group. It was a real privilege to be able to discuss our work with them and I found them to be open to criticism and ready to consider change. One point that emerged from the discussion that was of interest, I thought, was that the press are often criticized for their use of language when that usage is current in general English. While this puts the press in the spotlight, it also means that at times they can be in the vanguard of discussion and change in language use, as the recent discussion of the use of the word 'migrant' in the UK media has shown. This makes an engagement with media language all the more important for academic researchers.
Following this panel was a second panel, chaired by Fatima Manji, composed of the editors of ITN news and BBC news (Robin Elias and James Stephenson) as well as Channel 4's Home Affairs correspondent Simon Israel. Julian Petley, author of
Pointing the finger: Islam and Muslims in the British media
,
gave academic weight to this panel's discussion. A very thought provoking discussion ensued about how to achieve a more inclusive and representative newsroom which demonstrated, once again, that the media was willing to engage in discussion and was prepared to embrace change.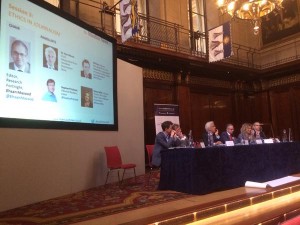 After lunch the final session, chaired by Ehsan Masood of Research Fortnight, followed a
contribution from Jonathan Heywood of Impress on a Leveson compliant media watchdog that Impress are developing. A lively debate followed led by the head of IPSO, Sir Alan Moses. Sir Alan was joined by prominent editors from The Sunday Times (Eleanor Mills) and The Observer (Stephen Pritchard) as well as the Managing Editor of the London Evening Standard and Independent Group, Will Gore. A key tension that was highlighted by Sir Alan Moses in the debate was between what in principle may be desirable and what is achievable in reality. He also made the important point that we have to decide as a society where we want regulation to end and a softer form of social regulation to begin. I finished the afternoon with a brief and rewarding discussion of my work with Sir Alan.
The event was a rare and precious opportunity to showcase academic research to a range of key stakeholders and for that opportunity I am very grateful both to MEND and to Muslim News.