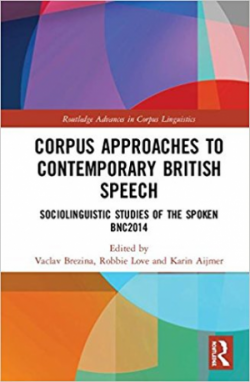 Have you ever wondered what real spoken English looks like? Have you ever asked the question of whether people from different backgrounds (based on gender, age, social class etc.) use language differently? Have you ever  thought it would be interesting to investigate how much English has changed over the last twenty years? All these questions can be answered by looking at language corpora such as the Spoken BNC 2014 and analysing them from a sociolinguistic persective. Corpus Approaches to Contemporary British Speech:  Sociolinguistic Studies of the Spoken BNC2014 is a book which offers a series of studies that provide a unique insight into a number of topics ranging from Discourse, Pragmatics and Interaction to Morphology and Syntax.
This is, however, only the first step. We are hoping that there will be many more studies to come based on this wonderful dataset. If you want to start exploring the Spoken BNC 2014 corpus, it is just three mouse clicks away:
Get access to the BNC2014 Spoken
Register for free and log on to CQPweb.
Sign-up for access to the BNC2014 Spoken.
Select 'BNC2014'in the main CQPweb menu.
Also, right now there is a great opportunity to take part in the written BNC 2014 project, a written counterpart to the Spoken BNC2014.  If you'd like to contribute to the written BNC2014, please check out the project's website for more information.