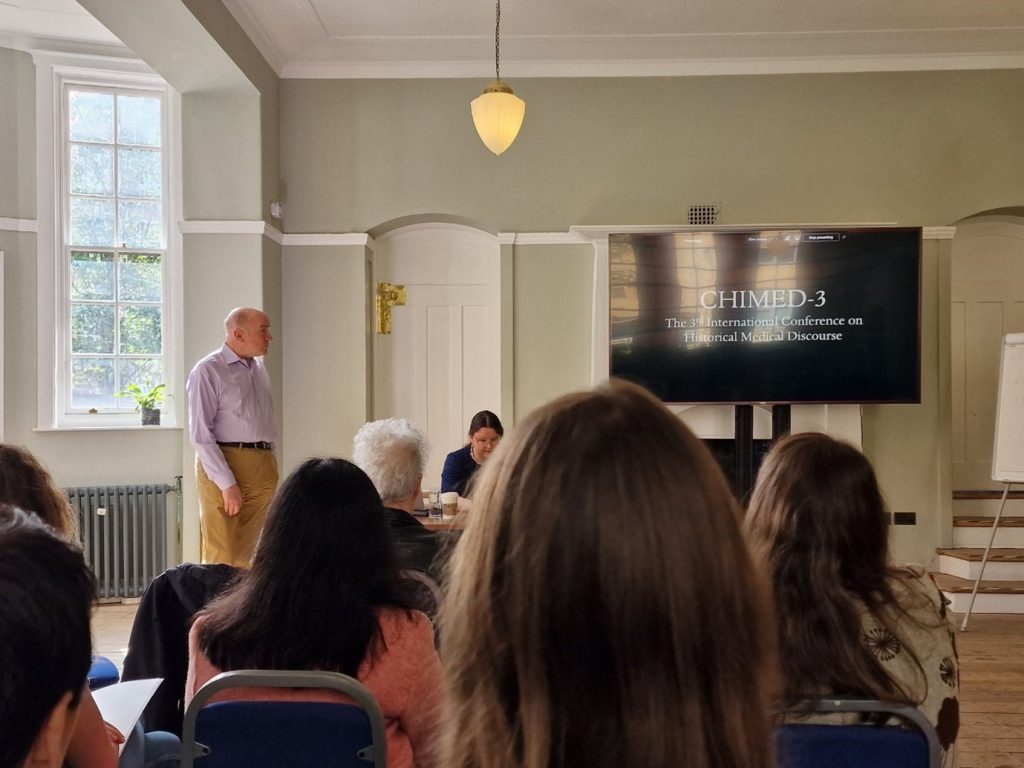 Photo credit: Niall Curry
On two (mostly) sunny May days last week, CHIMED-3, the third International Conference on Historical Medical Discourse was held at the beautiful and very apt location of Mary Ward House, in London. Built in 1898, the building has housed a great many initiatives to support education, community, health, wellbeing and the arts, heritage and science, making it the perfect place for this year's meeting.
Threading throughout the two days was the issue of narrative. Questions included: who is telling the narrative, and who for? How do narrative strategies change and adapt to different cultural contexts and purposes? How can different datasets be combined to tell a more comprehensive story?
Beginning the day was a fascinating talk by Irma Taavitsainen on Medical Narratives (1375-1800), which explored how medical narrative forms and functions change over time and relate to specific genres and scientific thought styles. We were then treated to four talks that gave us a great insight into women's recipe collections, through which a range of women shared their medical knowledge. We learnt that pages could be left free at the end of each chapter so that the new owners could add their own thoughts and recipes – wouldn't that be a nice practice to bring back? Laura Esteban-Segura discussed a recipe manuscript from 1606 that appears to have been a wedding present to Alethea Howard, the countess of Arundel, and Isabel de la Cruz-Cabanillas moved the conference focus towards Late Modern English by exploring interpersonal communication in women's recipe collections. Prepping us well for the lunch you see below, Francisco Alonso Almeida explored links between remedies and food via medical recipes in 19th century cookery books authored by women. Giulia Rovelli then spoke about Medical Knowledge in Late Modern English Household Recipe Books, which contained our personal favourite word of the day: "chururgeon" (surgeon).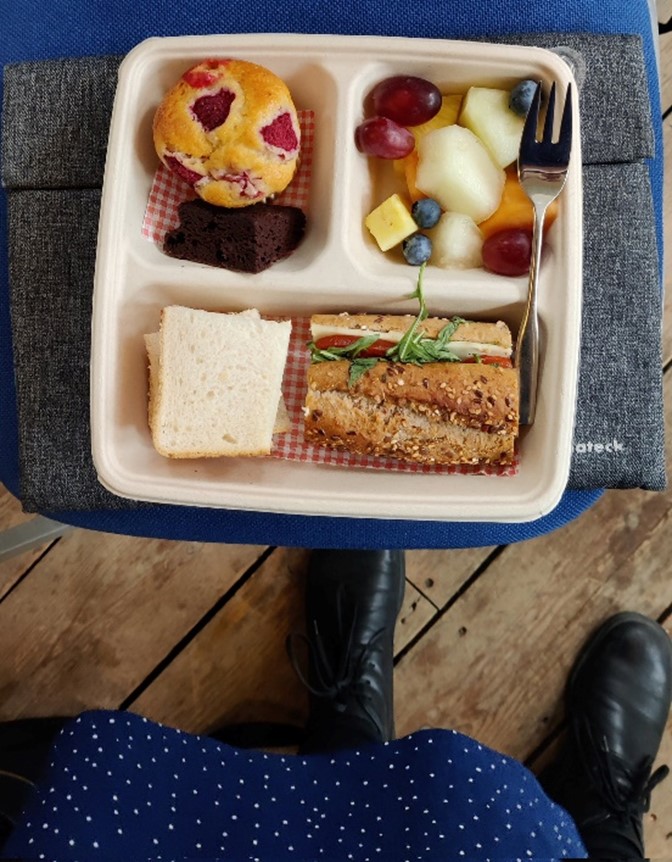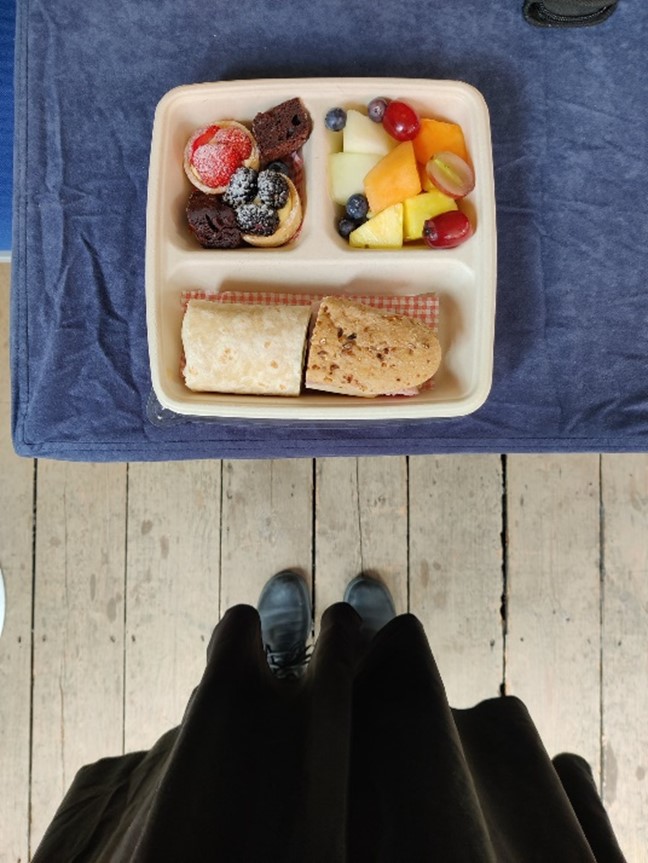 Lunch! Photo credit: Hanna Schmueck
Once we'd sampled what good proper nourishment can do, Elena Semino and Derek Gatherer represented the QuoVaDis team with a fantastic plenary on the Victorian Anti-Vaccination Discourse Corpus (VicVaDis). The team is keen to make this corpus publicly available, so watch this space…
The final panel of the day featured Elisabetta Lonati's talk on 18th-century midwifery, with our favourite quote of the day: "That which principally enobles any science, is the dignity of its object, and the public utility arising from it". We then took a fascinating detour via a presentation by Anupama Shukla on different portrayals of people with epilepsy in literature (plenty of good Dostojewski content here!) before returning to the topic of midwifery in Richard J. Whitt's talk dramatic tour of some quite explicit language emerging from a textual exchange within the 18th century controversy surrounding man-midwifery and the use of instruments.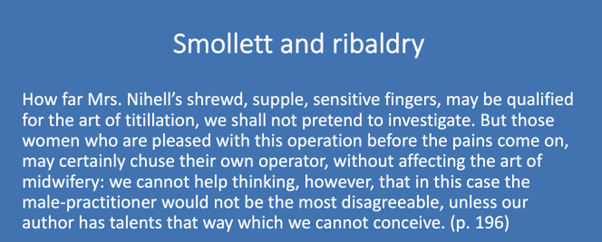 A screenshot of a quote in Richard J. Whitt's presentation.
Georg Marko opened Day 2 with his excellent presentation on depersonalisation in medical writing (1700-1900), followed by Daniela Marrone guiding us through various topics emerging from Thomas Linacre's Medical writing. Katrin Menzel concluded the panel by investigating adjective noun constructions in texts from microbe hunters (what a name) in 19th century Royal Society publications. A pleasure to see some stereotypically tongue-twister-y German compounding in this talk!
Following a quick coffee break, Anna Anselmo took us on a journey into the fascinating realm of Dormatology with her talk on Somnambulism in Medical Dictionaries. We then took a conceptual turn, with Anna La Torre guiding us through eugenics and racial medical discourse in scientific journals during Fascism in Italy, which generated important discussion surrounding how science can both reflect and shape social beliefs and actions. Taking us down another interesting path, Theresa Roth and Gohar Schnelle then presented on different evidential strategies that can be observed in ancient versus early modern medical discourse.
In our second plenary, Carla Suhr introduced us to the history of Daffy's Elixir Salutis and its legitimisation in pamphlets & newspaper adverts. It was particularly interesting to explore this knowing that we were sat not far from where the elixirs would have been produced and sold back in the day. To conclude the conference, we journeyed from the UK to a completely different part of the world: Australia. Matthew Brook O'Donnell, Alan H. Brook and Angela Gurr presented health logs of the voyage (made by the Surgeon Superintendent, whose reputation and pay notably relied on good reports!) alongside multidisciplinary sources documenting the health of early migrant settlers in South Australia, including news reports and teeth. The advertised 'life of emigration' for working class people, in which the boat appears to be a luxury cruise liner and sheep lie down to be sheered, provided a marked contrast to the written and archaeological records of migrants' experiences…
As you can see, this was a varied and interdisciplinary conference filled with fascinating explorations of medical discourses in different times and contexts. While strategies and contexts change, the purposes of educating and persuading (sometimes both) do not, and looking backwards provides important perspective on modern-day medical discourses, including issues surrounding depersonalised versus holistic approaches, vaccine hesitancy and stigma.
Thanks to everyone who attended CHIMED-3, be it virtually or live at Mary Ward House, we hope you enjoyed it as much as we did! If you couldn't attend or would like to rewatch some of the talks, please feel free to take a look at the recordings here.
You can also follow the event on Twitter using the hashtag #CHIMED3.