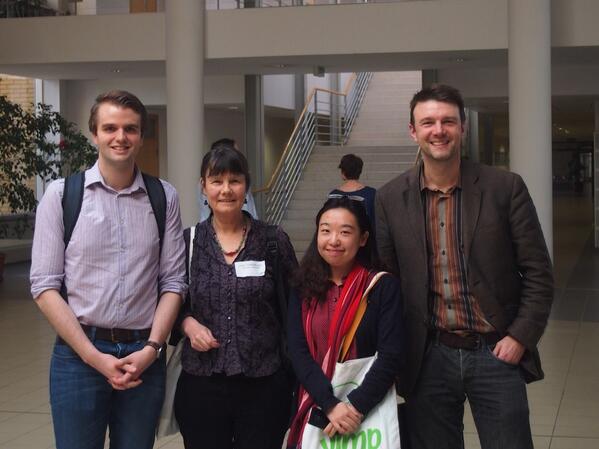 I recently had the pleasure of travelling to Poland to attend the Young Linguists' Meeting in Poznań (YLMP), a congress for young linguists who are interested in interdisciplinary research and stepping beyond the realm of traditional linguistic study. Hosted over three days by the Faculty of English at Adam Mickiewicz University, the congress featured over 100 talks by linguists young and old, including plenary lectures by Lancaster's very own Paul Baker and Jane Sunderland. I was one of three Lancaster students to attend the congress, along with undergraduate Agnes Szafranski and fellow MA student Charis Yang Zhang.
What struck me about the congress, aside from the warm hospitality of the organisers, was the sheer breadth of topics that were covered over the weekend. All of the presenters were more than qualified to describe their work as linguistics, but perhaps for the first time I saw within just how many domains such a discipline can be applied. At least four sessions ran in parallel at any given time, and themes ranged from gender and sexuality to EFL and even psycholinguistics. There were optional workshops as well as six plenary talks. On the second day of the conference, as part of the language and society stream, I presented a corpus-assisted critical discourse analysis of the UK national press reporting of the immediate aftermath of the May 2013 murder of soldier Lee Rigby. I was happy to have a lively and engaged audience who had some really interesting questions for me at the end, and I enjoyed the conversations that followed this at the reception in the evening!
What was most encouraging about the congress was the drive and enthusiasm shared by all of the 'young linguists' in attendance. I now feel part of a generation of young minds who are hungry to improve not only our own work but hopefully, in time, the field(s) of linguistics as a whole. After my fantastic experience at the Boya Forum at Beijing Foreign Studies University last autumn, I was happy to spend time again celebrating the work of undergraduate and postgraduate students, and early-career linguists. There was a willingness to listen, to share ideas, and to (constructively) criticise where appropriate, and as a result I left Poznań feeling very optimistic about the future of linguistic study. I look forward to returning to the next edition of YLMP, because from what I saw at this one, there is a new generation of linguists eager to push the investigation of language to the next level.