After successfully defending my viva early this year, I've been sharing some of the lessons I learned over my 38 months as a PhD student. In this installment, I talk about powering through your final year and preparing for your viva. 
If you missed the previous entries, click through to read Part 1 (Preparing for the programme) or Part 2 (Managing your work and working relationships). 
---
Coming down the final stretch
When you absolutely can't stand the sight of your PhD, you know you're nearly finished with it. From speaking to my friends and colleagues, this tends to happen around 8-10 months before submission, which means that you get about 40 weeks of steely focus, single-mindedly trying to get the demon out of your computer and into the hands of your examiners. This is a testing time for your personal relationships and for your scholarly stamina, but a most excellent time for your academic work.
I've yet to meet someone who had the problem of too little material for their PhD (though I suppose they might be out there), so remember ABC: Always Be Cutting. When re-reading your work, keep a sharp eye out for words and phrases such as basically, simply put, in other words, and so on. These are clear indicators that you've been repetitive and could be more succinct.
Don't be afraid to be absolutely ruthless in editing and rewriting, especially in this magical 8-10 month period where you just want it gone. Print out a copy of your research questions and hang them somewhere in sight of your working space. As you finish your analyses and revise your structure, make sure that all words serve the research questions. If you find that your work drifts, you have two choices:
Revise the research questions to match what you researched. It is the worst-kept secret in the academic world that research questions posed in the infancy of a project might not be those we end up answering along the way. This is totally natural. What's unnatural is if your research questions and chapters/analyses do not evolve together, and your thesis ends up looking more like a centaur than a human or a horse. Pick a human or a horse, and run with it!
Remove analyses that do not directly contribute to the thrust of your thesis. This can be very painful, but is almost always necessary. You do so much work during the PhD that you want to be able to show it all off at the end. But the truth of the matter is: not everything is relevant, and 80,000 words cannot hold the entirety of your own knowledge, let alone the accumulated learnings of the human race. If you find analyses that are clear departures from your research questions, remove these from the main document and save them in a series of new files to turn into papers when you're ready. Summarise each of these in bullet points, and you can add them into the 'further work' section of your thesis, which means that you can still demonstrate that you've thought about (and even journeyed toward) new directions in your work. The upside here is that you have a clear path to follow-on publications.
Remove distractions. Be selfish. This is a very short time in your life where it is perfectly fine to just stay the course and keep your eyes on the prize. Surround yourself with understanding, patient, and supportive people. Work each day until you are not being productive anymore, and then relax doing something that is not mentally exhausting but is not mentally destructive. Try your best to stay flexible and (self-) reflexive.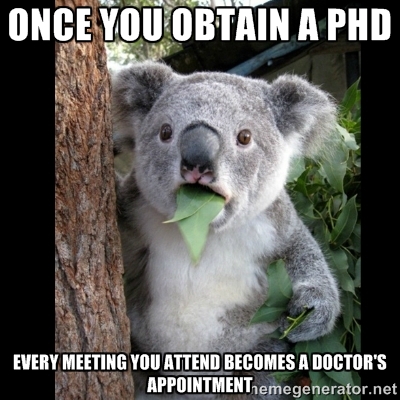 Staying flexible and reflexive
Everyone who starts a PhD is a perfectionist, to some point. We all came to this point (the highest tertiary degree on offer) with a unique mixture of natural talent, intellectual curiosity, mental fortitude, and real hard-headedness. Either you or many of the people in your cohort would have been at the top of their Masters or Bachelors classes, or come from a solid career in industry. The thing about a PhD is that it is designed to be both finite and imperfect.
In the postgraduate socialising area of the linguistics department at Lancaster, we once hung a sign that said, "There are two kinds of PhD: Perfect, and finished". Choose 'finished'! The last year of your PhD will break your heart, because that's when you realise just how much you can do in your finite period, and more devastatingly, how much you just cannot fit in. I can't remember who told me this, but whoever it was should step forward (because I owe you a drink):
Your PhD is not your great work. If you stay in academia, it is almost certain to be your worst work.
We do this to prove that we can do greater things if given more time, money, chances, collaborators, experiences. If you save all of the interesting things that you can't fit into your PhD into separate folders, you have a good head start on papers that you can publish either during or directly after your doctorate. You can easily fill up a 'Future Work' section in your final chapter. And most importantly, you can finish your PhD.
As soon as I let go of the idea of my thesis as this all-encompassing, nearly-perfect, staggering contribution to science and accepted the fact that it was just the best version of many possible (apprentice) books that I could have written in that time, it just flowed out of me.
For instance, throughout my thesis, I worked on a method of downsampling that could help researchers who were, like me, working with very large corpora resulting in hundreds or thousands of collocates per search node. To make sure that this method was applicable to different data sets, I did two case studies, and I was able to refine the method quite dramatically in the second half of my study. As I wrote up the second half of my PhD, I agonized about the first half, which was completed and written up using the now-outdated, subpar version of the method. "Do I have to go back and redo the entire thing?" I wailed to my long-suffering supervisor. "It will be more perfect if I do". In his wisdom, my supervisor suggested that I find a way to turn these lemons into lemonade, rather than turning them into 6 months of additional hard labour.
In the end, I presented my PhD warts and all. I was transparent about my 'research journey', which my examiners looked upon very favourably. Remember that this process is meant to be hard work; totally whitewashing your PhD by removing all traces of earlier errors, therefore denying yourself the ability to weave in a narrative about the learning experience itself will not do you many favours. Also, including brief notes about where you went wrong, how you identified problems, and what you did to fix them, will help future PhD students immensely. Everyone who opens your thesis afterwards can avoid reinventing the wheel you already sweated over – they can focus on their own unique and novel problems!
Choosing your panel
Choosing the people who will sit on your panel is one of the most crucial decisions of your doctorate. In the UK, we generally have four panels: a pre-confirmation, a confirmation, a post-confirmation, and a viva voce.
The pre-confirmation happens during your first year, and generally checks your progress and working relationship with your supervisor. I suggest choosing an examiner who is (even marginally) in your field and can make some comments about your literature review and some suggestions for possible directions in your work. The most important trait of an examiner in the pre-confirmation (in my opinion) is that they are supportive and kind. Choose someone who will boost your confidence for the road ahead!
The confirmation panel (in my department, taking place in the second year) confirms the movement from PhD student to PhD candidate. This panel is high-stakes, as failing it can mean a significant delay in finishing your PhD, or even discontinuing it completely. Despite this pressure, I recommend choosing the toughest possible person from your department to examine your confirmation panel. For this spot, you want the person most likely to pick holes in your theoretical and methodological choices while there is still time to adjust before the viva. If you choose correctly, your confirmation will be the hardest panel of your PhD – mine certainly was!
The post-confirmation panel happens in the third year of the PhD here, and checks that you have settled on research questions and are on target to submit. Your examiner should be someone quite critical about research questions and design, but also someone who you feel that you can trust and talk to, particularly if you're encountering issues. This is your last panel before the viva, so it's a good place to take the temperature of your overall research design and to get a bit of a confidence boost or a reality check.
Finally, we come to the viva. In Lancaster, this happens after 3-4 years of PhD study. I know that some universities don't give students much control over the members of their panel, but I urge you to have an open dialogue with your supervisor about this. The people sitting in those seats can not only change the outcome of the day, but also have a lasting effect on your career. For my viva, I needed to have three examiners: one internal and two external. (At Lancaster, your supervisor is present during the viva, but cannot speak.) I chose a variety of scholars who have all used corpus linguistic methods in their work, and whose previous findings have been echoed in my thesis. I knew that they would be critical of my work, but would most likely receive it positively. At this point in the process, you would like to engage in a lively debate about your research, but you do not want this to be a negative or a defensive one.
Preparing for the day
This was quite controversial at the time, but I also only told three people (my partner and two very close friends) which day my viva was on. I was freaking myself out enough counting down the days to V-Day; I didn't want a dozen other friends (as well-intentioned as they might have been) ramping up the pressure by constantly reminding me of the impending panel.
You'll likely have quite a bit of practice describing your research from speaking to fellow students, scholars, and conference attendees. However, speaking to influential people in your field is much different; it's a good idea to practice some answers just in case you find yourself freezing up on the day. Here are some questions that could/maybe/will come up in a viva:
Explain your thesis in fewer than 5 sentences.
Explain your thesis for a layman.
What is the one idea that links the entire work together?
What motivated you, personally, to undertake this work?
What do you think the main contribution of this work is?
What was the most crucial decision that you made in designing/structuring/undertaking this work?
Do you think you could have done better work with more data or less data?
How have you, as a researcher, influenced the outcome of this analysis? What safeguards have you put in place against this?
How has the process influenced you? Has your view of the data/circumstances/research topic changed over the course of the degree?
Summarise your major/key findings. Are any of these surprising? Why are they interesting?
Who will find this work most interesting? Do you think it's accessible to this audience?
Do you have plans for distributing these results to non-academic audiences? What about the contributors/stakeholders?
How would you begin future research?
What sort of advice would you give future PhD students? (Maybe you can write 3 blog posts about it!)
Why do you think that this merits a PhD? (This is the toughest question in the book, and I think it's only asked in extenuating circumstances, but best to be prepared.)
The best thing that I did to prepare for my viva (personally) was to read through my thesis one last time, with comments and track edits turned on in MS Word. I got a head start correcting typos that were spotted by my examiners, and I was able to add comments expanding on some areas that I thought might fall under their scrutiny. Because I was reading the thesis closely enough to edit it, I really re-familiarised myself with the content (much of which I had blocked out in the two months between submitting and defending it). When I was done, it was this copy that I printed and brought with me in a ring folder to the viva. I've seen a lot of people put post-its and highlights all through their theses, but I just put tabs on each chapter and post-its marking the areas I thought we'd turn back to regularly: 1) key words; 2) details of corpus design; 3) final comments. I've heard of people bringing stacks of books to their viva, but if a critical reference isn't contained within your PhD, you have much bigger problems! The printed, annotated copy of my own thesis was totally adequate.
On the day itself
On the day of your viva, try not to do anything that makes you more anxious than normal. For instance, I'm a coffee addict but I only had one cup that morning, resisting the urge to chain-drink the stuff to get some rocket fuel before the main event. Try not to run around the department like the sky is falling, or to haphazardly skim-read your thesis; you know what's in there. Go about your business like it's a normal day and then go to talk about your work with some people.
That's important enough to bear repeating: you're just talking with people. During the viva, remember to be as respectful and as grateful as possible, and you will (most likely) be treated with kindness in return. Examiners read hundreds of pages — for free — and often travel great distances just to discuss your work with you. Be gracious about this! Not everyone is entitled to a smooth, friendly viva, but we all hope that we get one.
So when an examiner asks you a question about your thesis (your baby! your precious!), answer as calmly and objectively as possible. They are genuinely curious! Famous people! About your work! Remember that nobody has read and done paperwork and travelled to be horrible to you.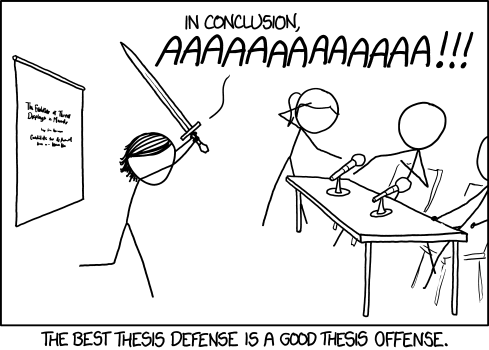 Unlike in sports, the best defense is not a good offense. If the PhD is an apprenticeship, the viva gets close to teaching new scholars what it is like to present to the toughest crowd at a conference, or to get back the most detailed peer review from a journal. In almost all cases, you can accept what your examiner says, or thank them for their comment and think over the ramifications later. This is not to say that you should go limp during the viva; if you feel misunderstood, or if you feel as though a challenge to your theoretical framework/methodology/research design is unfounded and can be easily responded to, do your best to present your perspective. But much of the viva is a group of very clever, very curious people asking questions, hoping for clever, interesting answers. If you are able to get into this mind-set, you might actually be able to do the unthinkable and enjoy your viva. If you manage to impress examiners with both your work and your congenial attitude, your viva might also be the birthplace of new collaborations or lasting scholarly relationships.
---
This was my last post in the series. If you have any questions about being a PhD student, or if you're considering doing a PhD at Lancaster University, please get in touch! You can email me at a.potts@lancs.ac.uk or follow me on Twitter @WatchedPotts