Researchers investigating figurative language using corpora will find this new volume extremely helpful:
Deignan, A., Littlemore, J. & Semino, E. (2013) Figurative language, genre and register. Cambridge Applied Linguistics. Cambridge University Press, Cambridge. ISBN 9781107009431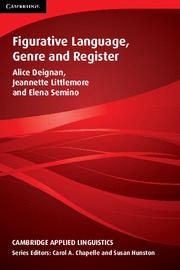 This book brings together discourse analysis and corpus linguistics in a cutting-edge study of figurative language in spoken and written discourse. The authors explore a diverse range of communities from chronic pain sufferers to nursery staff to present a detailed framework for the analysis of figurative language. The reader is shown how figurative language is used between members of these communities to construct their own 'world view', and how this can change with a shift in perspective – for example, when nursery staff are talking to each other about children in their care, and when they are communicating with the children's parents. Figurative language is shown to be pervasive and inescapable, but it is also suggested that it varies significantly across genres. Hence, the use of figurative language can both help and hinder communication, especially when boundaries between genres and discourse communities are crossed.
Download a sample chapter or visit the Cambridge University Press page for author bios and information on ordering.