In July 2014, I and four other students from the Faculty of Arts and Social Sciences (FASS) at Lancaster University (Sophie Barker, James Lester, Eleanor Richards-Johnson, and Gillian Smith) travelled to Hong Kong to attend the SILK Road International Summer School.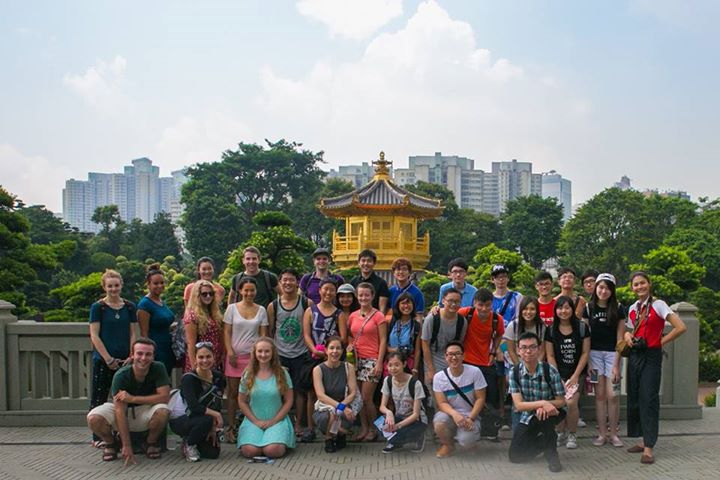 The three week summer school, organised by Hong Kong Polytechnic University (PolyU), in affiliation with Xi'an Jiaotong University (XJTU), was attended by students from countries all over the world, including Hong Kong, mainland China, the United Kingdom, Australia, the United States of America, Thailand, and South Korea. Its aim was to encourage students to "Study in and Intercultural environment and Learn to be Kreative" (SILK), and this was made possible by hosting an internationally diverse cohort of students. At the helm of the summer school was Lancaster University Linguistics alumni Dr Xu Xunfeng, who accompanied us for the entire duration of the course.
We took two out of a choice of four credit-bearing university modules. These courses, usually delivered across an entire term, were adapted to be taught intensively. As such, we received eight hours of contact time every Monday, Wednesday, and Friday, and were required to prepare readings and assignments in between classes. The courses offered were:
The first week took place at PolyU in Hong Kong, where we were housed in PolyU's student accommodation. The second and third weeks were hosted at XJTU in mainland China, where we were accompanied and taught largely by the same staff from PolyU, and stayed in a hotel. Each module differed in terms of assessment style, but they all concluded with group presentations on the final day of contact time, which consolidated some aspect of the learning experience. At the end of the course, we returned to Hong Kong for one more night before travelling home.
In addition to taking classes, we were taken on day trips every Tuesday, Thursday, and Saturday, to a series of cultural sites both in Hong Kong and Xi'an. These included the Terracotta Army at the Mausoleum of the First Qin Emperor, the Zhongnan Mountains, the Wild Goose Pagodas, and the Tang Dynasty Palace Theatre. In addition there was some free time for us to explore both Hong Kong and Xi'an independently – all in all we certainly had a chance to squeeze in a fair amount of sight-seeing amongst all the studying!
This was the first time that the SILK Road International Summer School had taken place, and it proved to be a valuable, educational, and enjoyable experience for all of us who were lucky enough to be there. The organisers have already announced that the summer school will run again next year, and I hope it is even more successful than this year. I am very grateful to both Hong Kong Polytechnic University and FASS at Lancaster University for funding our trip.