CASS just keeps getting fuller! Gavin Brookes is the newest senior research associate to join the centre, and will be working on our "Beyond the checkbox – understanding what patients say in feedback on NHS services" project. Here's a little about Gavin, in his own words: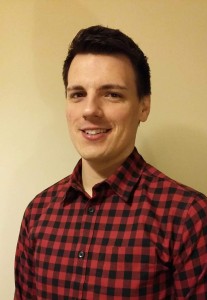 I am very excited to begin my role as Senior Research Associate working with Professor Paul Baker on the CASS project, "Beyond the checkbox – understanding what patients say in feedback on NHS services". The purpose of this research is to help the National Health Service better understand patient feedback with a view to improving frontline healthcare service provision (you can find more info. here: https://cass.lancs.ac.uk/?p=1832). This project is corpus linguistics at its most applied. Its aims are timely and have clear and significant practical consequences and I am thrilled to be a part of it!
I am endlessly fascinated by the relationship between discourse and social life and have adopted corpus linguistic, (critical) discourse analytical and multimodal approaches to investigate this relationship in my research to-date. My enthusiasm for this project will come as little surprise when I tell you that I am particularly interested in how discourse shapes and represents our experiences and understandings of health and illness. My ESRC-funded doctoral research, undertaken in the School of English Studies at The University of Nottingham, examines the discursive construction of a contested condition known as diabulimia in a specialised corpus of online health messages.
Outside academia I spend my time walking, travelling, reading fantasy and science fiction novels, partaking in pub quizzes, and following my beloved (if perpetually under-achieving) Mansfield Town FC. I am delighted to be here and can't wait to learn more about, and get involved in, the research that is being undertaken within the Department.