After submitting and successfully defending my thesis a few months ago, I've decided to share some 'lessons learnt' over the course of my 38 months as a PhD student. 
In Part 2 of this series, I'll talk about best practices for structuring your work, managing your relationship with your supervisor, and my experience with teaching undergraduates. If you missed "Part 1: Preparing for the programme", you can read it here. 
---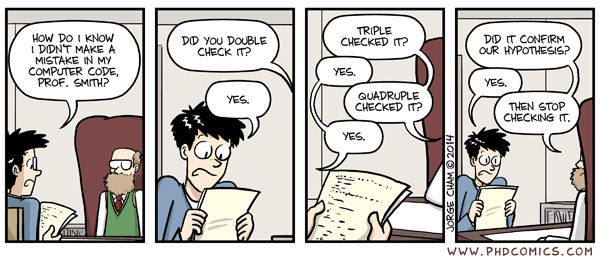 Structuring your work
I believe it's healthy to treat your PhD—as much as possible—like a job. Like any job, a PhD has physical, social, and temporal boundaries.
Try to create a PhD 'space'. Make use of your office if you've been given one at your university, and create a space within your home that is a 'work area' if you haven't been given one. Working from bed, from the sofa, or from a café means that your PhD is infiltrating all areas of your life. While some degree of this is inevitable, it's best to keep physical boundaries as much as possible, even if you can only keep it to your desk.
By the same token, making friends outside of your department or your field is helpful in many ways. I adore my friends from Linguistics and I couldn't have finished my doctorate without them, but you wouldn't solely hang out with friends from work when you're at home, and this is the same situation. In a group of people who have a similar background, you might end up talking about your field 'outside of hours'. This can be stimulating, but also exhausting. You may want to vent about your department, or talk about something other than your PhD or field, even trashy TV! It's easier with friends from other areas. As a nice extra feature, the connections that you make outside of your field can also help you inside your field. I've had very good advice from friends working in statistics, gotten ideas from historians, and been inspired by literary scholars, even though I might never venture into these areas in the library.
If you can, also create a routine for yourself, even if this isn't 9-5. It's best if this routine involves physically moving locations, but even if it doesn't, physically change something: take a shower, get dressed for work. Pick 8 hours within the day that you work best, and work during those hours. Don't be too hard on yourself if you have a short day or miss days out entirely…a PhD is 'swings and roundabouts' as they say around here…it's long enough that you will make up the time to yourself. As much as possible, take the weekends and holidays off. This might mean working longer than 8 hours on weekdays, but personally, I think it's worth it. Many people study in a place far from where they grew up, and a PhD is one time in life where you can be flexible enough with your time to enjoy a bit of sightseeing and tourism.
During this routine, set clear goals for yourself. I've seen people arguing for and against writing something every day. I found it very helpful to set a daily word count goal for myself, then sit in front of a computer until I at least came close. The number isn't important: at the start of my PhD, I aimed to write 200 words per day; at the end of my PhD, I was able to write 1,000 words per day. What is important is getting into a routine. You will sit down some days and feel horrible. You'll have writer's block. You will struggle through each word of those 200, and know that you'll delete most of them. But it's much easier to get 40 great words out of 200 bad ones than to write 40 words completely cold. I've written entire chapters three times as long as they needed to be, and hated them. But paring them down is cathartic—it's like sculpting. The bonus is that when you get into the habit of writing every day, you slowly get into the habit of writing something good every day. Soon, you'll be writing 100 words and keeping 50 of them. Then you'll be writing 1,000 words and keeping 900 of them. The important part is keeping the pace: just write! Your supervisor will also appreciate having something tangible to mark your progress (see next section).
As far as the structure of my own work, there are three things that I would do differently, if I could do it all again:
Decide on a reference manager and stick to it diligently from Day 1. At the start of my degree I used EndNote for reference management, as this was offered for free by my university and came in both desktop and web versions. For my whole first year, I used EndNote to create an annotated bibliography—an extremely useful tool when drafting your literature review. However, EndNote began crashing on me, and papers were no longer available. In my second year, I stopped keeping track of references and just kept haphazard folders of PDFs. In my third year, I just used in-line citations, believing that sources would be easy to find later on. Not true! The month before submission I decided to make the leap to Mendeley, a truly amazing (free) reference manager that allows you to build and share libraries, store your PDFs, search other people's collections, and select from a vast array of output styles (I favour APA 6th edition). The transition was extraordinarily painful. Exporting from Endnote was problematic and buggy, scanning PDFs in Mendeley was error-prone, and finding the corresponding works for those in-line references was impossible in some cases. I wasted a solid week just before submission sorting out my references, and this really should have been done all along. It would have been so painless!
Master MS Word early on. In my final year, I finally got serious about standardising the numbering of my tables and figures, which means that in the eleventh hour, I was still panicking, trying to make sure that I had updated everything to the proper styles and made appropriate in-line references to my data. Had I set my styles earlier on and made the best use of MS Word's quite intuitive counting and cross-referencing mechanisms, I would have saved myself days of close reading. If you are using MS Word (sorry, I can't say anything about LaTeX) and you are not using the citation manager or cross-reference tool, learn how to do that immediately. Today. Your library might have a class on it, or, like me, you can brush up in an hour of web searching.
Put down the books earlier. At a certain point, you need to generate new research and make a novel contribution to knowledge. Your first year and much of your second year will be dedicated to making sure that a research gap exists, and that you can pay tribute to all of the giants whose shoulders you will be standing on. However, burying yourself in a library for three years reading everyone else's great works is a good way to paralyse yourself. Of course you will always need to keep up with the times, but a certain point, your rate of writing will overtake your rate of reading. If I could do it again, I would follow a pattern more like this: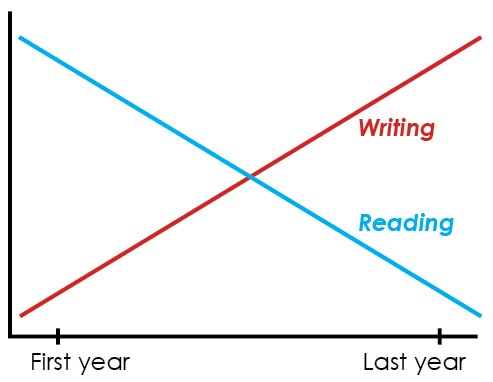 After the first year, you won't be missing anything totally fundamental. After the second year, you won't be missing anything peripheral. If, in the third year, you've missed something very fresh, your examiners will point it out. But the more important thing is to make a contribution. Most of the PhD is research, not literature review. Your supervisor will be able to help you with this, and with other things (but not really others), as I discuss below.
Managing your relationship with your supervisor