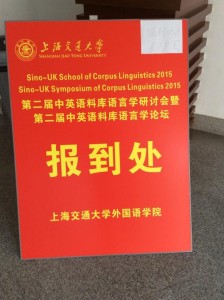 At the end of July, Tony McEnery and I taught at the second Sino-UK corpus linguistics summer school, arranged between CASS and Shanghai Jiao Tong University. It was my first time visiting China and we arrived during an especially warm season with temperatures hitting 40 degrees Celsius (we were grateful for the air conditioning in the room we taught in).
Tony opened the summer school, giving an introductory session on corpus linguistics, followed a few days later by a session on collocations, where he introduced CASS's new tool for collocational networks, GraphColl. I gave a session on frequency and keywords, followed by later sessions on corpus linguistics and language teaching, and CL and discourse analysis. For the lab work components of our sessions, we didn't use a computer lab. Instead the students brought along their own laptop and tablets, including a few who carried out BNCweb searches on their mobile phones! I was impressed by how much the students attending already knew, and had to think on my feet a couple of times – particularly when asked to explain some of the more arcane aspects of WordSmith (such as the "Standardised Type Token ratio standard deviation").
At the end of the summer school, a symposium was held where Tony gave a talk on his work with Dana Gablasova and Vaclav Brezina on the Trinity Learner Language corpus. I talked about some research I'm currently doing with Amanda Potts on change and variation in British and American English.
Also presenting were Prof Gu Yuego (Beijing Foreign Studies University) who talked about building a corpus of texts on Chinese medicine, and Prof. Roger K Moore (University of Sheffield) who discussed adaptive speech recognition in noisy contexts.
We were made to feel very welcome by our host, Gavin Zhen, one of the lecturers at the university, who went out of his way to shuttle us on the 90 minute journey from the university to our hotel on the Bund.
It was a great event and it was nice to see students getting to grips with corpus linguistics so enthusiastically.